Year 11s sit their final exams; the school rolls on!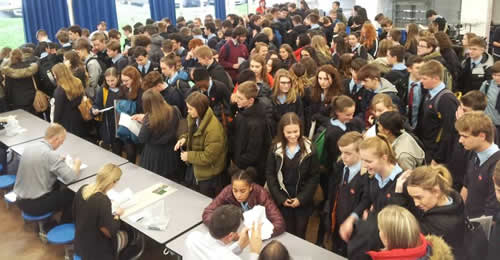 21st June saw the last exam for our year 11s – a GCSE paper in further maths. The year group have been amazing over this stressful exam period and they fully deserve the excellent exam results we anticipate them receiving in the summer.
Schools never stand still though. It's now the turn of year 10 for their end-of-year exams. We wish then luck!
The summer term is always a good time to review how we are doing as well as planning ahead. We changed our policy on uniform and mobile phones this year, after a group of teachers and support staff considered how we could improve in this area. Phones are now only allowed at break and lunch, and have to be placed silent inside bags during lessons. It's timely to be reviewing this now as the issue of mobile technology in schools seems to have hit the national headlines once again. Our approach has recently been reviewed by the same group of staff who introduced the policy, and a few tweaks have been made to support staff in ensuring there are no disturbances from phones in lessons.
This, alongside every aspect of school life, is kept under review to ensure we have the best chance possible of all our students 'achieving together'.