A Midsummer Night's Theme
Thank you to Stanley, Mya, Hannah, Zoe and Olivia for this write-up!
On Thursday 5th of July 2018 Ms Wernham's English class 7M2C, walked into their lesson as normal. As they walked into the room they had a sudden shock: all the tables and chairs were around the outside of the room. We then got told that we were going to be acting out the important parts of the Shakespeare play we have been studying called 'A Midsummer Night's Dream', in only one hour!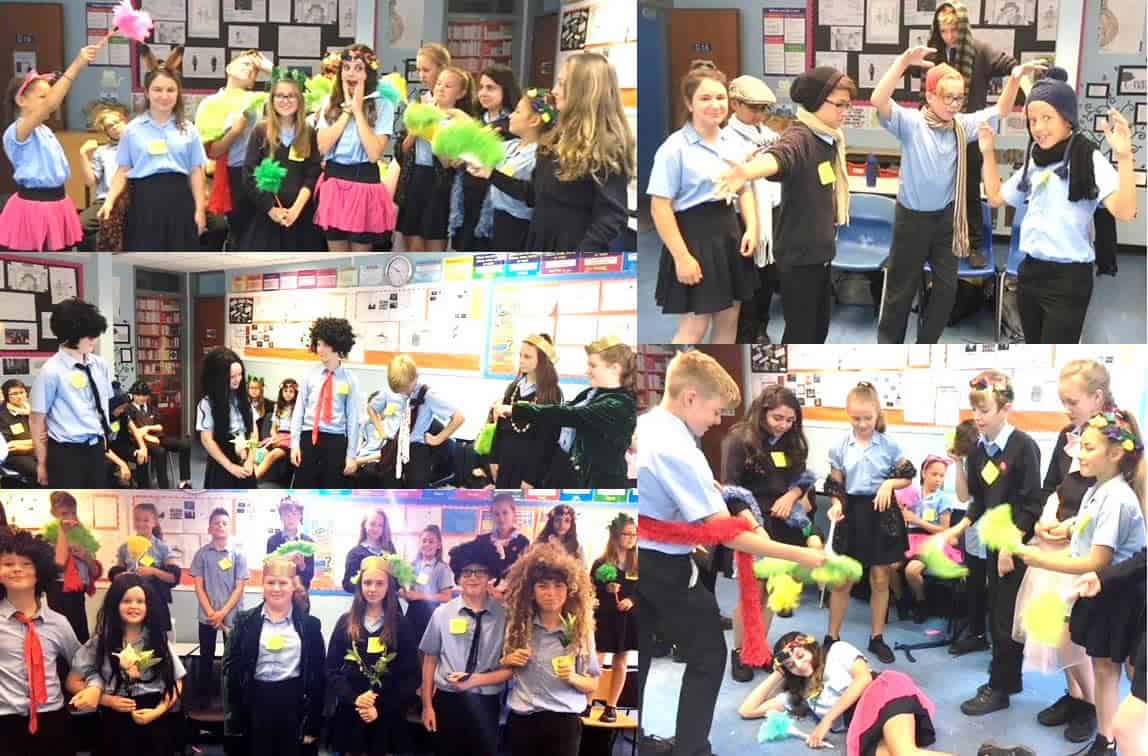 On the tables were costumes; some were fairies, some were human. Everyone had a different character to be and costumes to match the character they were playing. There were 21 different characters in total. However, the four main characters were Helena, Hermia, Lysander and Demetrius. We were given the opportunity to play the character we wished to play.
After this we put our costumes on. We all stared at Javier with his curly blonde Helena wig. As we acted out the first scene Theseus gives Hermia three choices which are: listen to her father and marry Demetrius, to become a Nun or be put to death! However, Hermia decides to run away to the forest with her true love, Lysander.
In the second scene in the forest Titania (the Queen of the fairies) is having an argument with Oberon (King of the fairies). The reason for this argument is because Titania has stolen a human boy, but Oberon wants the boy for himself, to be his servant. Their argument is affecting the weather for the humans and causing the crops to die.
A funny moment later on in the play was when Stanley and the fairies had to dance Titania to sleep, with their feather dusters and feather fans. Later on Titania is shocked to find out she was tricked by Oberon and Puck and made to fall in love with a donkey! The play ended with Hermia and Lysander, Helena and Demetrius and Theseus and Hippolyta getting married. A group of workers called the Mechanicals perform the play that they have been rehearsing for the wedding, which is terrible and Puck tells the audience it might have all been a dream.
Once we had finished acting out the play, Ms Wernham wanted to take pictures of the key moments, some of these were: Titania and Oberon fighting over the human boy, fairies dancing Titania to sleep, a fight between the Helena and Hermia and Lysander and Demetrius and the weddings at the end. We got into freeze frames to show these important moments in the play. All in all it was a really fun lesson because it involved everyone.