Sixth formers shine at Chemistry Olympiad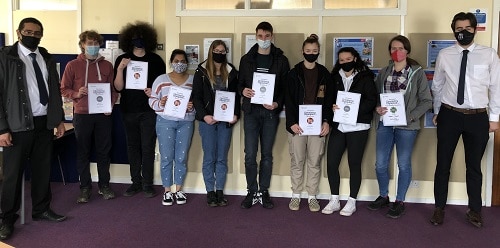 Congratulations to our sixth form chemists who put in an amazing performance during this year's 'lockdown' chemistry olympiad.
Special congratulations go to our year 12 students, who have only just finished the AS level content, where many of the questions required knowledge of work to be done in year 13. All these students showed how much they are up for a challenge, and we hope to achieve even more highly next year.
Thank you to Mr Langford and Mr Groves for organising, and to Mr Groves for hand-delivering the papers to every student during the school closure.
Pictured here alongside their teachers are Sam Parsons, Lucas Ryan, Nadia Usman, Lucy Kolter, Luke Waddell, Hannah Plumb, Isobel Carrick and Sophie Taylor.