Staff edge thriller in Teenage Cancer Trust fundraiser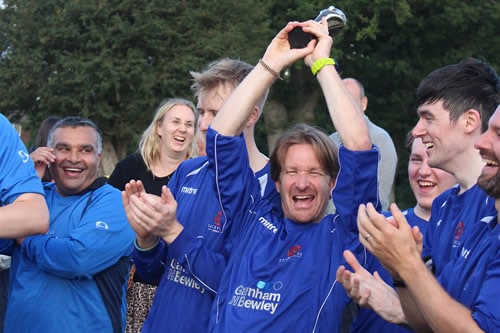 The match had been postponed twice because of COVID, but that only served to heighten the sense of anticipation. In a keenly fought game, the staff team ran out narrow winners with goals from Mr Beaver and a sensational headed finish from Mr Byrne. Forest Row answered with a screaming header from Ben Clark, of which John Stones would have been proud.Thursday 9th September finally saw our staff football team play last year's Forest Row U16s in order to raise money for Teenage Cancer Trust.
Alongside the game, refreshments were served and a raffle with incredibly generous prizes was held. More than £1500 was raised for this excellent charity, which has supported a number of Sackville students over recent years.
The game was played in completely the right spirit, befitting its fundraising purpose. As we feel our way back to some new sense of normality, many of those present commented that this was the Sackville community at its best.
Special thanks to Karen Young and James Moon of the Forest Row team for hours of tireless organisation. Same time next year?