'Your Life You Choose'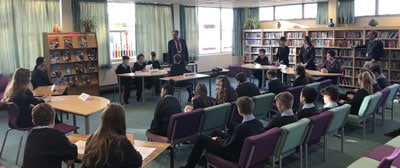 Year 8s enjoyed a detimetabled day in the last week of January as we welcomed a range of important visitors inlcuding magistrates, JPs and police officers, led by Frankie Sulke, CBE. The day, called Your Life You Choose included a courtroom simulation, a conversation with serving police officers, a workshop on sentencing, and an hour with a former prisoner.
The students and their tutors were enormously positive about the day, with the corridors ablaze with conversation as the students went from session to session.

Five one-hour sessions demanded and exemplary attitude from our students and we are delighted that this was recognised by our visitors. We were told 
Your pupils were an absolute credit to you all.  They engaged actively, were curious, interested and interesting.  They were respectful of each other as well as of us and it was such a pleasure to spend time with them.
We would like to thank the team of visitors who made this possible, and Ms Vance for her essential in-school organising work.