Amber's headline debut a sell-out success
While we were preoccupied with our prom on Friday June 21st, year 10 student Amber Titchener played her first headline gig at Chequer Mead, with all proceeds going to the Teenage Cancer Trust.
Support acts on the night were Eliott Meldrum, Elodie Ansell, Seren Amelia, Urban City, Galaxy Thief and Amber T. Elodie and Seren are also both Sackville students. Pictured here you can see Amber (Centre) flanked by Seren (left) and Elodie.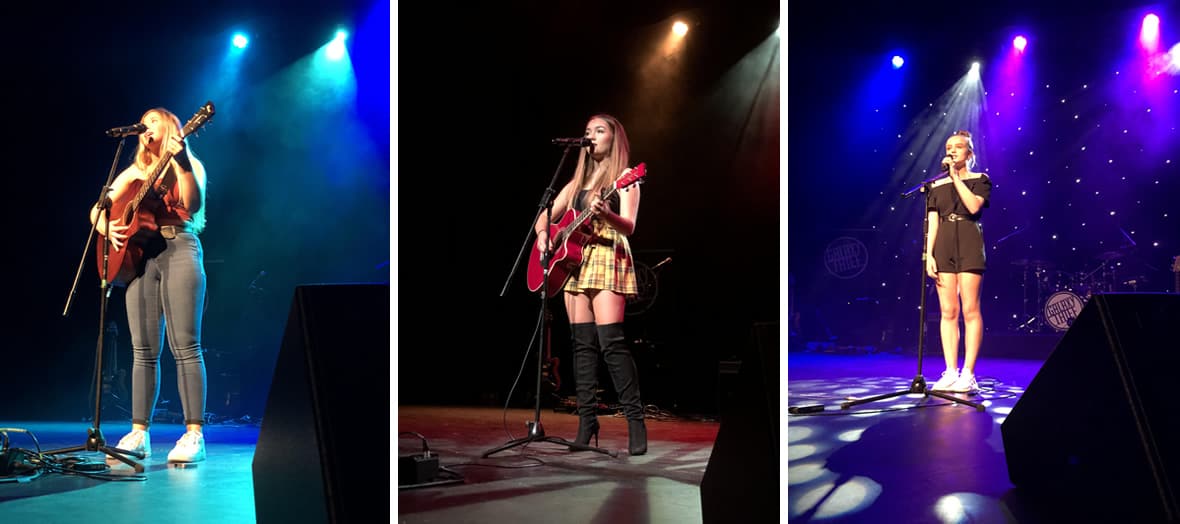 The night started with local songwriter Elliott Meldum aka Arden who gave a class performance of Ed Sheeran's "The City" and then an original song "All In A Game". Sackville's own Elodie Ansell followed with a magical performance of Ella Eyre's "We Don't Have to Take Our Clothes Off" and Jorja Smiths "On My Mind".
The talent kept coming with Year 9's Seren Foulds aka Seren Amelia with a perfect performance on guitar of Gnarls Barclay's "Crazy" and Florence and The Machine's "You Got The Love'. Local dance act Urban City (including several Sackville students) then took the stage for a twenty minute explosive and energetic performance!
After the interval the audience were treated to the sounds of South Coast Indie band Galaxy Thief.   The band gave a high energy performance with the audience up on their feet dancing.   Energy levels stayed high as Amber took to the stage joined by Urban City's backing dancers to perform an exclusive first performance of "Now" followed by the massive YouTube hit "Tick Tock".
After more originals on guitar ("She Don't", "Jigsaw") Amber then gave a heart stopping performance of Adele's "When We Were Young" with Galaxy Thief's drummer Ben Watton playing keys.    More pitch-perfect covers from The 1975, Paramour, Sam Smith, and Amy Winehouse followed. The finale was The Killers "Mr Brightside" which had everyone up in the theatre on their feet and all the acts joining in on stage!
An amazing evening – well done to everyone involved.