Freya and Leah among the country's elite young scientists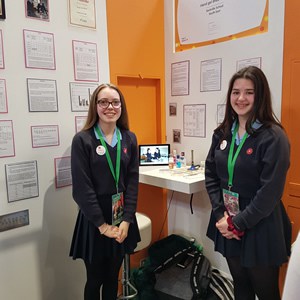 Congratulations to Freya Eastcott and Leah Bush who have just come second in the 2019 Big Bang competition for young scientists and engineers. The girls' project looked at the cost-effectiveness of hand-sanitisers, using advanced scientific and mathematical procedures to reach their conclusions.
At the NEC on Thursday 13th March, the girls' immaculate poster presentation impressed the judges so much that they were awarded second place in the junior science category. This is a truly splendid achievement that places them amongst the country's elite young scientists.
More details of the work undertaken by the girls is in the March edition of Sackville News – well worth the read!