An amazing Joseph …
'Each year I say it can't get any better – but then it does'! These were the words of one audience member after the premiere of this year's school show, 'Joseph'. We couldn't agree more. The first night's performance was as amazing as the technicolour coat itself. For the finale, the cast of nearly 100 were packed onto the extended stage, and as they performed a reprise of some of the show's big numbers it was obvious what a success the night had been.
So much work goes into each of these performances and they really are an embodiment of 'Together We Achieve'. Building upon polished work by the Sackville band, the audience was soon whooping and clapping performance after superb performance. Charlotte Nield is a peerless Joseph, and departing audience members were purring with appreciation at her interpretation of the role.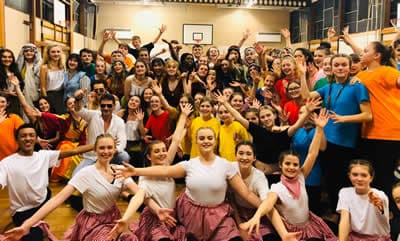 Hers was one of many amazing voices to be heard. The narrators Maud Kendrick, Peggy Wheeler, Nicole Noakes, Chloe Harman, Abi Hewitt and Lucy Barber kept the storyline moving. There were very strong male lead performances from Olly Howland as Potiphar, Jack Charlton-Nevitt as the Pharoah-as-Elvis and Eric Parker and Tom Duncan as two of the brothers. Seren Foulds also stood out as another brother, breaking to the news to her father (the excellent James Payne) that Joseph had perished.
There are so many people to thank for a performance like this. An enormous number of staff have given up many hours to make it happen. Special thanks to Ms Warran and Mr Heatley. See this show!