Sackville swimmers give a performance of a lifetime at the National Finals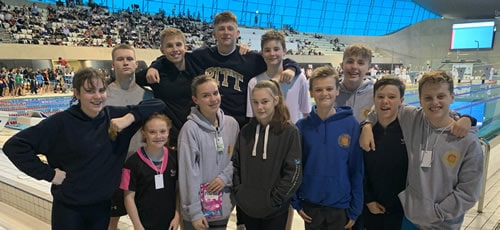 Sackville's elite swimmers put in several extremely strong performances at the National Schools' Swimming Finals on Saturday November 16th. This is the pinnacle of schools' swimming, and fittingly takes place at the London Aquatics Centre. Representation from state schools was once again very thin, and shows how well our competitors did even to reach the last stage of the competition. 
Each team matched or exceeded its seeding – true mark of how well they performed.
Junior boys freestyle – seeded 25th, came 17th – 2.04.77

Inter girls medley – seeded 36th, came 26th – 2.15.04
Senior boys freestyle – seeded 21st, came 19th – 1.45.26
Senior boys medley – seeded 16th, came 16th – 1.56.50
Some of the students also got to meet Tom Daley during the day as well.
Pictured left to right (first photo) are Rachel Davies, Sam Wiles, Chloe Grantham, Nathan Randall, Abigail Hall, Emily Graziano, Freddie Mabey, Robert Taylor, Joe Lancaster, Henry Young and Oliver Tindale.
We would like to thank the students not just for their excellent results, but also for their exemplary behaviour through the day. Thanks too to the parents who made the journey and gave up a Saturday. Finally, none of this would happen without the leadership of Miss Offler – thank you!