Sackville narrowly miss out in debating competition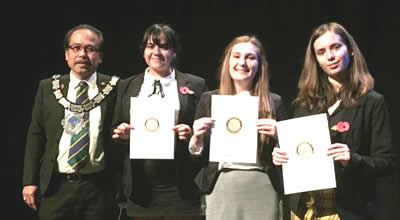 On the 11th November, three Sackville Y13 students – Katie Moullin, Imogen Gaines and Awatif Castuera took part in the Rotary Youth Debate Competition held at Chequer Mead. They considered the position that 'the battle for gender equality is over' presenting passionate arguments that the definition of feminism was now outdated and that the global position of women was not the same as we experience here in the United Kingdom. They were then presented with a question from the floor from Ex-Town Clerk Chris Rolley.
The team scored very highly and all the teams were within six points of each other. The judges Rex Whittaker, previous town mayor, Helen Farren from Estcots School and Glen Campbell an editor at BBC South East said it was a very difficult decision. Unfortunately, they were unable to retain last year's trophy, narrowly losing out to Imberhorne School Team B. 
The musical interlude was provided by Sackville students Elodie Ansell and Amber Titchener who impressed the audience with a mix of cover songs and one of Amber's own compositions. The photo shows Town Mayor, Councillor Danny Favor presenting certificates to the Sackville Team. Many thanks to the Rotary Club of East Grinstead for hosting and organising the event, and to Mrs Fleming for accompanying the team. Congratulations to Imberhorne – we look forward to next year!