A dazzling success for Sackville's edition of We Will Rock You; the long-awaited first show back after a loooong 2 year pause.
'We Will Rock You' the Musical provides the perfect warning for our increasing dependence on technical devices, or 'GlobalSoft', where we are at risk of leaving our individuality behind and uploading our souls to the IPlanet! However, hope embodies itself in the form of Rock 'n' Roll – the sweet sound of freedom!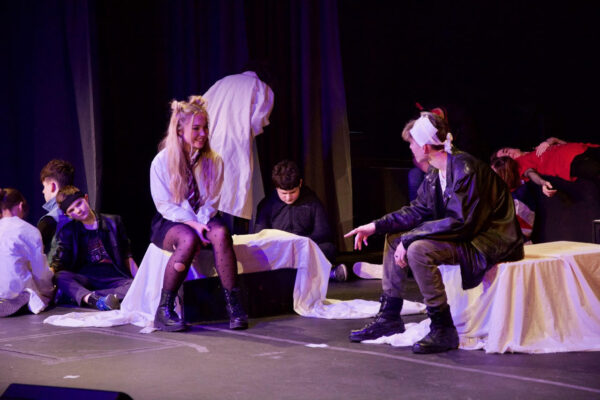 We follow the rocky and turbulent journey of two young rebels: disorderly dreamer Galileo (played with drive and vitality by Jamie Bland and Seren Foulds on alternative nights) and headstrong, sparky Scaramouche, with stunning vocals from Amber Titchener and Nicole Noakes.
On their quest, the two heroes encounter both enemies: the almighty Killer Queen (Peggy Wheeler – what a voice!) Khashoggi and his sidekick (James Payne and Isaac Nield – a perfect comedy duo), and friends: Brit (Erin Bogle), Oz (Freya Eastcott actor and bass player) and Buddy (Harry O'Ryan Bristow) who help them restore rock 'n' roll to the world.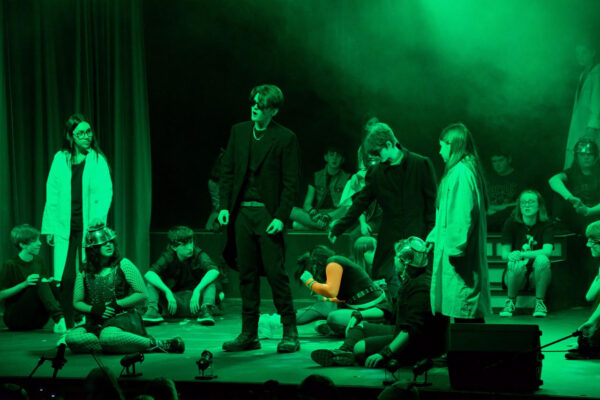 Undeniably the principles deserve huge amounts of praise, but the ensemble is really what brought this spectacular to life. A surplus of wacky puns – both scripted and unscripted – and killer vocals, with dance moves to match,  made this show a complete and utter joy to watch!
Of course it's not simply the talent on stage we must congratulate, Mr Heatley's incredible band brought the rock anthems and iconic ballads a whole new lease of life, leaving the audience boppin' and groovin' in their seats. Some fantastic work from guitarists Freddie Pugh and Ben Bartlett, and drummer Ollie Tomkinson, but it was the way in which all musicians came together and blended so effortlessly to recreate the well-known musical score that truly shone through.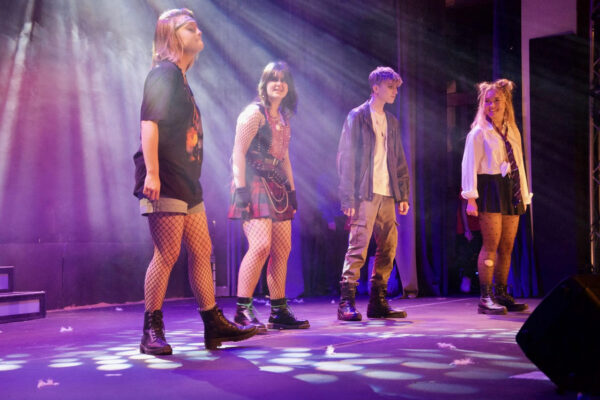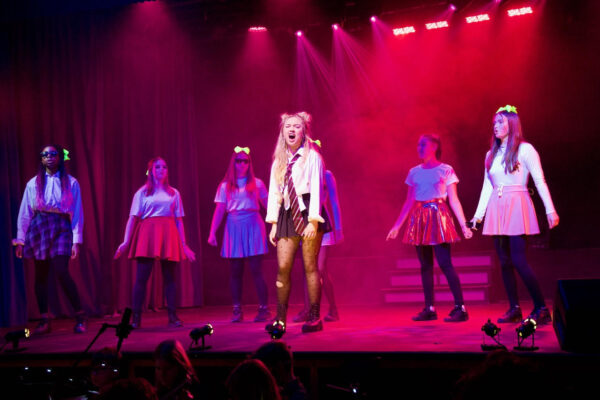 We can't congratulate Sackville's production of We Will Rock You without mentioning the tireless work of the backstage Crew – you are all amazing! Special thanks to phenomenal director Mrs Whitmore, vocal coach Anna Thompson, choreographers Mrs Jeffcoat and Mrs Woolley, and stage manager Mrs Carrick.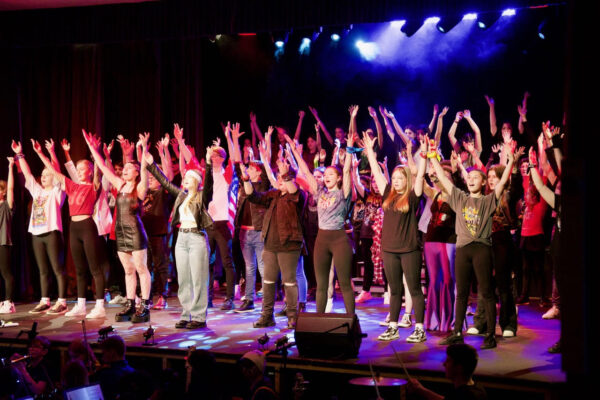 In short, we are so proud of the whole cast and crew of this production for their efforts – you are all champions….of the world!
Long live Rock 'n' Roll!