Halsford Park and St Peter's shine at Sports Hall Athletics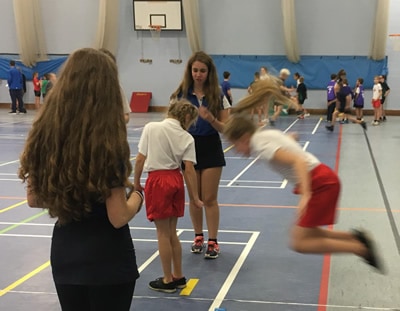 Congratulations to Halsford Park School, winners of the latest sports hall athletics heat held at Sackville, and St Peter's School, the runners-up.
Both schools go on to represent East Grinstead in the Mid Sussex finals, which will again be held at Sackville.
More than 250 children competed, representing nine schools. The noise levels were deafening throughout, testament to the enthusiasm of the competitors. The energy expended would have lit East Grinstead for a week.
Thanks to our sports leaders for giving up their time, and especially to Mrs Currie for her tireless organisation.
---
Sackville speaks!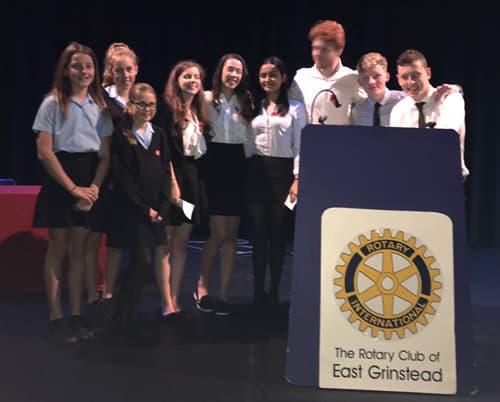 Sackville sent several teams to the Rotary Youth Speaks Competition at Chequer Mead on Tuesday 7 November. Charlie Main, Melissa Turner and Chloe Maraner spoke on the topic 'Unhappy Ever After – should children's stories always have a happy ending?' Bryn Fagin-Adams, Kit O'Callaghan and Tom Dean chose as their focus 'The Significance of Sport'. We were particularly pleased to have a year 7 team present: Ellie Parkes, Gracie Stratford and Zoe Ray took as their subject 'Is the Age of Paper Over?', and cogently argued that it should not be yet.
Other schools present were Lingfield College, Worth School and Imberhorne School, who ran out as overall winners.
Headteacher Julian Grant said "The confidence and enthusiasm displayed by all of the Sackville participants was really admirable; it made me a very proud headteacher!"
We would also like to thank our musicians Michael Hoelters, Tia Bartlett and Seren Foulds who performed so well to great applause. A special thanks too to Mrs Fleming who prepared the teams so well.
---
Sackville works with OfSTED
Regular readers of Sackville News will know that our Headteacher, Julian Grant, is one of the members of the OfSTED Secondary Headteachers' Reference Group. As a result of this, at the end of October we were delighted to host a visit from Her Majesty's Inspector Matthew Haynes, who was keen to talk to classroom practitioners, ascertain their views of the inspection process, and share the rationale  of OfSTED procedures. Both Mr Haynes and our staff found the meeting extremely illuminating and very positive. Mr Haynes later wrote "I just wanted to say a big thank you for hosting me last week and how lovely it was to meet you. I also would be very grateful if you could pass on my sincere thanks to staff – both for their generous time, and their hugely thoughtful and insightful contributions".
---
It's all happening for Sackville students

We have had some distinguished visitors this week, and some distinguished student success too. First, former student Sam Howes, now a goalkeeper with Watford FC, came back to school to offer some free coaching ot our year 7 goalkeepers.
It doesn't seem that long ago that Sam was our year 7 A team keeper, rushing off to London after his Sackville fixtures! Who knows what the future holds for our current year 7s?


The following day, star-crossed lovers and murderous ambition arrived in East Grinstead, as our year 11 students enjoyed a drama workshop on Romeo and Juliet or Macbeth (the plays they are studying for their English literature exam in the summer).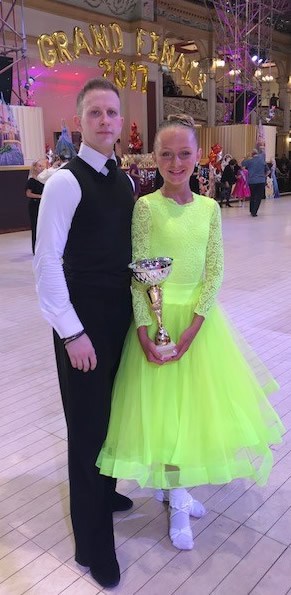 The energy and drive of the visiting troupe was matched only by the enthusiasm of the students who dressed up and took part in scenes from the plays, and who will return to English lessons reinvigorated and with fresh understanding and insights into the plays.
Finally enormous congratulations to year 7 student Callie Day-Williams who competed in the UK Grand Finals for Latin and Ballroom dancing in Blackpool.
Callie came 2nd in Ballroom, after competing against 33 other top-class performers. She also managed to place 5th in Latin. A truly amazing achievement, and another one to note for the future! Someone who can watch Strictly and really mean it when she says 'I could do better than that!'
---
The new half term starts at Sackville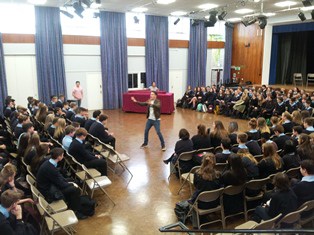 After a week of rest, no time has been wasted at the start of the new half term. Year 11 students watched a presentation on road safety, and were transfixed as the actors used drama to get home this serious and important message.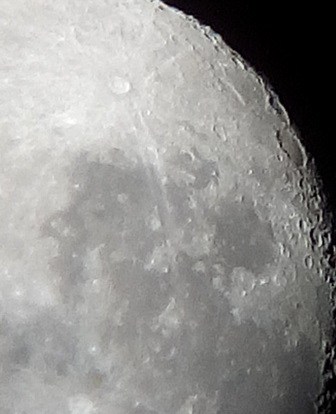 Wednesday was the second Observatory Open Evening of the year. It was great to see so many students, parents and guests from the wider community present. Over fifty keen observers attended the session to view a glorious waxing gibbous Moon, with many of them taking some superb photos with their smartphones. We also slewed our main telescope to view Uranus, a tiny disc of blue-green against a black sky. The Ring Nebula in Lyra was another target, a planetary nebula looking like a ghostly smoke ring in the eyepiece, and Albireo and the Pleiades were also a glorious sight.
More updates are available here: https://www.facebook.com/SackvilleObservatory/
The next open evening is on December 6th – let's hope for clear skies once again! Thank you to Maud Kendrick for this fantastically detailed shot of the moon.
Sackville is proud once again to have another Arkwright Scholar. Following the success of Cameron Toogood last year, Grace de Souza was successful in gaining one of these sought-after awards.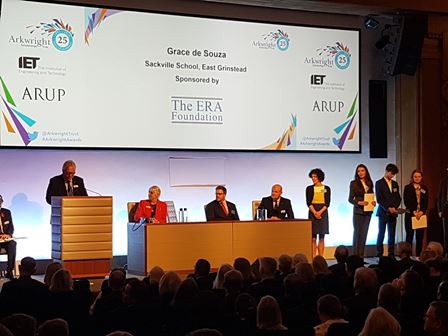 Just over 400 scholarships were awarded this year at a ceremony at the Institution of Engineering and Technology in London.
The Arkwright Engineering Scholarships act as a beacon to the most talented STEM (Science, Technology, Engineering and Maths) students in UK schools, and help to ensure that high potential young people engage with engineering careers.
Grace received her Arkwright Engineering Scholarship after listening to inspiring addresses by Pauline Cox, Chairman of Trustees of the Arkwright Scholarships Trust, Ann-Marie Cowperthwaite, of Ove Arup, and Dan Alldis, a previous winner of the scholarship.
---
Five years of outstanding A level success!
Newly available data from the Government reveals that students in the sixth form made significantly above average progress in 2017. This is the fifth year running that this is the case.
Our year 13 class of 2017 may well be our most successful ever. The positive progress made in the sixth form follows their spectacular results at KS4, where they achieved a progress 8 score of 0.41. What this means is that our students would have achieved two whole grades higher in their A levels than students from similar starting points in an average school.
So a student at a normal school who would have gone on to get grades CCC at A level would have got grades BBC at Sackville; a significant difference which gives a lot more choice at university or apprenticeship level.
---
Year 10s survive Storm Brian as they prepare for Nepal 2018
18 brave year 10 students weathered everything that Storm Brian could throw at them over the first weekend of half-term during their training weekend for their True Adventure trip to Nepal next Easter. Based in Cocking Village Hall, the weekend was led by Emma from True Adventure, who will lead the students whilst out on expedition. Saturday involved a navigation exercise over a very soggy South Downs, and the students learned what to do should a member of the group get lost. In the evening, students cooked their communal meal on Trangias under the shelter of the porch of the village hall, and this was followed by further team-building activities.
Tents had been pitched in the teeth of 50 mph winds in the afternoon on near waterlogged ground (at least the tent pegs went in easily), and students headed out into the dark to sleep in the evening whilst the winds were still strong. Sunday morning dawned calmer, and everyone was pleased to see the tents still standing. After breakfast a final problem solving session centred on using the storm shelter to make a stretcher to rescue an injured trekker.



The students were fantastic throughout; they can hardly wait for next Easter! Thanks you to Emma for giving up her weekend for us.
---
Dancers and gymnasts serve up a magical display


Congratulations to all our dancers and gymnasts for producing such an outstanding gym and dance display this year. The effort and planning they have put into their routines is obvious to anyone who has been in school for the last two weeks. Without such preparation a triumph like this evening would not have been possible. Thanks to all of the staff who made this happen too – another example of 'Together We Achieve'! And a special mention to our new year 7s – barely arrived at the school and they produce something like this. Great things are expected of these fine young people.
---
Sackville win the Adam Dabell Memorial Cup – at last!
Not many present at the 2017 Adam Dabell Memorial Game between Imberhorne and Sackville could remember the last time the team in blue won – but the jinx has finally been broken. Sackville ran out winners in a closely contested game 4-2, thanks to a Freddie Webb hat-trick and a goal from Harry Bryant. Kit O'Callaghan pulled off several excellent saves.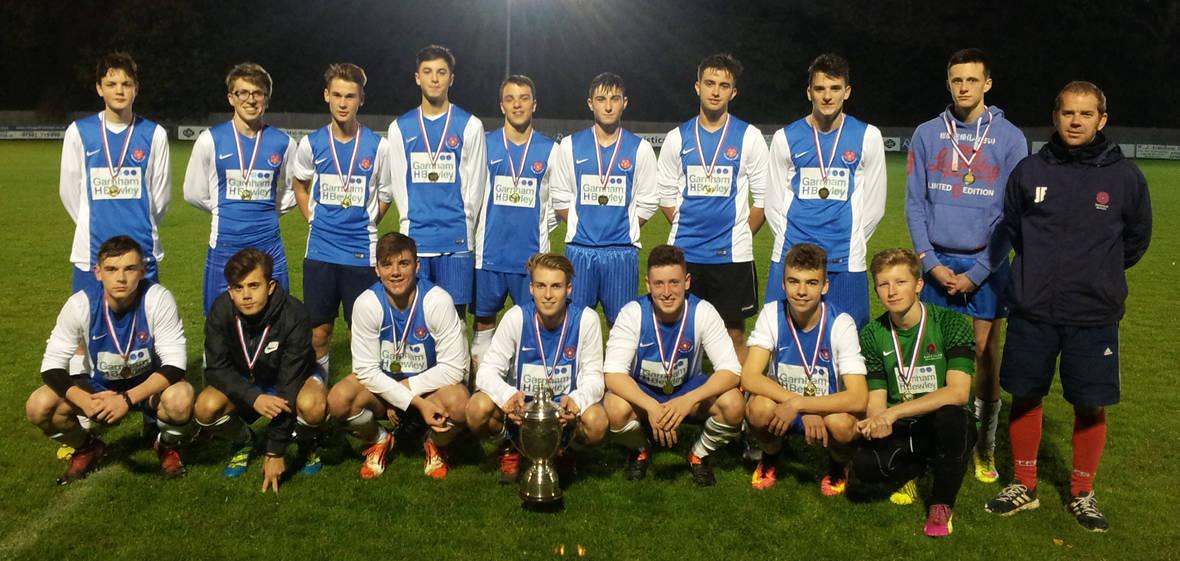 The game is played every year to commemorate Adam Dabell, an ex-Sackville student, who died suddenly after playing football due to an undiagnosed heart condition. This year's game had an added poignancy following the recent passing of Cllr Bob Mainstone, who has presented the trophy up to now.
More happily, Adam's father was able to report that Steve Hill, the PE teacher from Imberhorne whose happy inspiration this match is, is making an excellent recovery from surgery for a similar heart condition to that that affected Adam. Our best wishes go out to him, and our congratulations to the players from both teams, who did not disappoint a large audience. Bring on 2018!
---
Year 8s visit World War 1 battlefields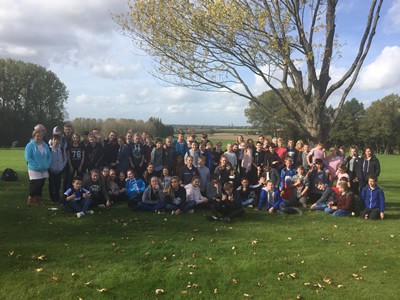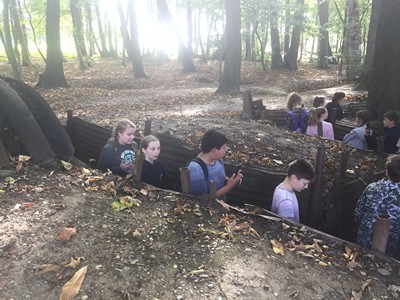 More than one hundred of our year 8 students visited the battlefields in Belgium and France on Thursday. A very early start meant that a full day could be had.
Students visited some of the key battlegrounds of the war, as well as paying their respects at war memorials including the Menin Gate. A fuller write up will follow in Sackville News at half term.
---
Sackville sports season is in full swing
Sackville is well-known for our extra-curricular sport, and this term is no exception. Each issue of Sackville News has a breakdown of the latest sports results. Since we last published there have been a number of events.
The boys' rugby season is particularly busy now. Our year 7s have started well, with a 35-5 victory against Hurst. The year 8s beat traditionally strong Tanbridge House 15-5, with Harvey and Jamie sharing the tries. Ellis scored a try in the draw against Heathfield, but we were not able to score in the 0-15 defeat to Warden Park. The same year is progressing well in the County Cup, with victories over Tanbridge House (60-15), Heathfield (45-30) and Beacon (30-15). Jamie, Harvey, Saul, Ellis, Kai and Liam have all been on the score sheet.
The year 10 rugby team are also progressing well, beating St Catherine's 58-10 and Oathall 21-5. Alex and Jack are scoring tries, and James is as usual converting at every opportunity.
The boys' football teams are also active, with our year 7s playing their first games. Both the A and B team lost narrowly against Forest. The year 8 A and B team have beaten Imberhorne, and in the National Cup the As beat Worth 9-2. Lucas, Harvey (again), Matt and Jude have been on the scoresheet. The year 9s lost a recent game to Tanbridge House (Freddie scored in a 1-4 defeat), whilst the year 10s won against Tanbridge with Jay and Maurice scoring.
Our girls' footballers have also been active, with our U15 A and B team winning against Lingfield College, with the As scoring 14 goals. Our year 11 girls beat Hazelwick 2-1. The U14 and U16 girls' netball teams spent a windy Saturday in Falmer at the National Finals.


Sunday 8th was the district cross-country championship in East Court. Sackville came second in the competition behind Ardingly, with great runs by Isaac (8th), Ellis, James and Jordan for the boys, and Rachel (2nd), Mia, Beth and Chloe for the girls. The teams are pictured here.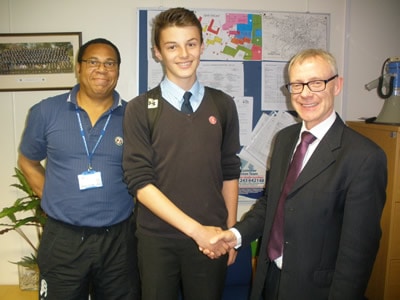 Finally, news of future star Joe Sheridan (pictured). Joe has been asked by Crystal Palace to play in an U15 tournament in Gothenberg over half-term. This is a year above his school age. Maybe he could play a few more years up and see if he could get some goals for the full side? Joe has also been asked to tour South Africa next Easter with Surrey County Cricket Club. Watch that name for the future!
---
Another busy Sackville weekend


The first weekend in October was a typically busy one for Sackville students. Friday evening kicked off with the annual year 7 camp. More than 200 students arrived in the late afternoon to pitch their tents on the school field. After an excellent supper prepared by our canteen staff, the students enjoyed a rotation of activities, which included an inflatable obstacle course, dodgeball, Pictionary, and Mr Endersby's patented team-builder 'buses' ("no sir, not me sir, it must have been row 3").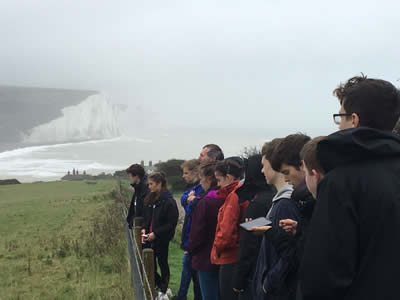 A glow-stick hunt followed, and the evening ended with a mug of chocolate and a doughnut. After this everyone went to their tents and not a sound was heard till 7am (warning: there is one untruth in this paragraph!).
Saturday morning began with an early departure of our year 12 geographers to the south coast to study coastal erosion and defence. The defence work at Birling Gap was in process for the students to see.
Meanwhile our U14 and U16 netball teams were competing at the Netball Nationals in Falmer.
---

Where is the best place to see the harvest moon? From Sackville's observatory …
Wednesday October 4th saw the first Observatory Open Evening of the new school year. Sackville students were joined by equally enthusiastic guests from our feeder primary schools. The clouds parted just in time for the some spectacular views of the harvest moon. A harvest moon is the first full moon after the autumnal equinox. Technically you had to wait till the the 5th for the real harvest moon, but our observatory open days are always Wednesdays, and the views of the moon were pretty special. Thanks to Freya in year 9 for this excellent photo.
Stargazers were also able to see a transit of the International Space Station.
You can find information about our observatory on its own Facebook page. We are already looking forward ot the next open evening.
---
Year 8s enjoy their day in the sun
Two hundred of our year 8 students had a true outdoor learning experience on Wednesday October 4th, when they visited the coast between Seaford and Hastings for their geography fieldwork day.
A primary focus was coastal defence, which was apposite given that the beach at Birling Gap has just been closed to allow maintenance of the stairs on the beach for reasons that can be seen in the pair of pictures in the slide show here from Wealden District Council.
Students also looked at the different shapes of pebbles and stones on different beaches, and filled in fieldwork booklets explaining the processes that had created them.
One highlight of the day was the walk down to the estuary of the Cuckmere River, allowing a comparison of the now-abandoned meanders with the canalized route to the sea.
Overall a very successful day; well done to all of the students involved. And of course another sighting of Mr Latus' yellow geography jacket.
---