Elton likes Amber!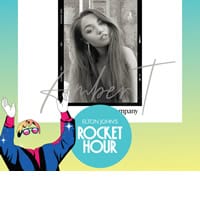 We have just heard that Elton John is playing year 12 student Amber Titchener's 'No Company' single over the weekend of November 7/8 on his Rocket Hour show on Apple Music, which goes out both in the UK, Los Angeles and New York City!
Bear in mind he picks the songs he himself likes, and it speaks once more of what a great future Amber has ahead of her!
And it gets even better – Elton compared Amber to Fleetwood Mac's Stevie Nicks! High praise indeed. Have a listen to what the great man says.