More sporting success for Sackville students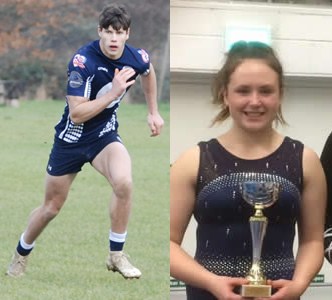 Our students' sporting exploits continue to surprise and enthuse us. First up in this picture is Matt Tomkinson from year 12. Matt has been simultaneously selected for the Sussex County rugby U17 squad, and for the East Grinstead RFC first fifteen.
Meanwhile Heidi Crowther returned to defend her national under-19 trampolining title in the midst of her year 11 GCSE mock exams. Depsite this added pressure she still managed a podium finish, coming a creditable third.
Well done to both students; neither of these achievements would have been possible without tremendous dedication – the same dedication both students show to their studies. Last year Matt was our first student to achieve a double grade 9 in the combined science trilogy, and he also achieved a grade 9 in GCSE PE. Meanwhile Heidi achieved her podium finish having scaled back her training from 12 to six hours per week to allow her to concentrate on her academic studies. We are seriously impressed!