Introducing ELSA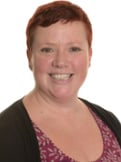 No – Mrs Knock has not changed her name … but at Sackville we now have our own 'ELSA'. Here's what she has to say about this role.
An ELSA is an Emotional Literacy Support Advisor 

who

 has been trained by Educational Psychologists to plan and deliver programmes of support to 

students

who are experiencing temporary or longer term emotional needs. The majority of ELSA work is delivered on an individual basis. I 

will

 work out of The DEN (Develop Encourage Nurture) which provides a calm safe space for the student to feel supported and nurtured.  Students are referred to ELSA by the Year Team.
As an ELSA 
I
aim to provide support for a wide range of emotional needs such as building resilience and self-esteem, managing and expressing emotions, positive affirmations, support through loss and bereavement, building positive attachments, social skills and to help avoid negative images or thoughts of self. In a nutsehell, an ELSA listens, supports, advises and empowers.
ELSAs are not there to fix students' problems but to provide emotional support to help them to understand and cope with feelings about themselves and others. The aim is to establish a warm, respectful relationship with a

student and

 to provide a reflective space where they are able to share honestly their thoughts and feelings built on a relationship of trust. Studies have shown that children learn better and are happier in school if their emotional needs are met.
Mrs Knock works three days as an ELSA, and two days as the year assistant for year 8. The other three days are covered by Mrs Farrant.