The Sackville Community at its best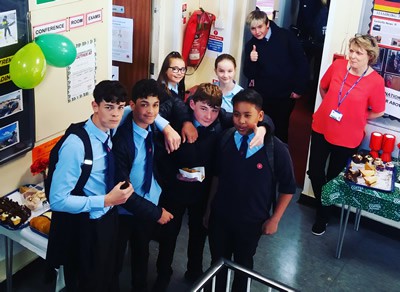 Friday 28th September saw two events that showed the Sackville community at its best. First off was a mega-cake sale, organised by Mrs Thomson, in aid of Macmillan Cancer Support, a charity close to the hearts of a number of staff and students at the school. An amazing array of cakes was cooked ready for the sale. By the end of lunch there was nothing left to sell, and an amazing £450 had been raised. A job very well-done, leaving many satisfied customers (some of whom are pictured here with Mrs Thomson).
After school the annual Paul Keenor Memorial Rugby Game was played between our first XV and a team of old boys. This match is always a competitve one, befitting the young man in whose memory it is played. Firefighter and ex-student Paul lost his life in a road accident responding to an emergency call three summers ago. He would have been pleased that the old boys, made up of so many of his friends, won the game again this year. Pictured here are the players and Paul's sister Poppy, who organised the BBQ and raffle to raise money for Paul's two young sons.