Maud and Nicole excel at East Grinstead Music and Arts Festival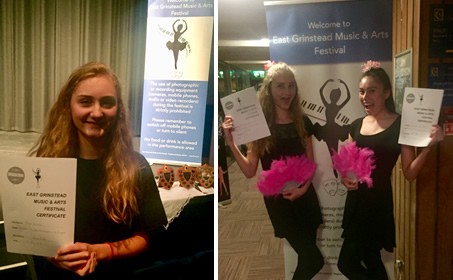 Anyone who saw our wonderful school show in the spring will have seen what performing arts talent there is at Sackville. So it's no surprise to hear that two of the stars of that show, Maud Kendrick (year 9) and Nicole Noakes (year 10), were winners at the East Grinstead Music and Arts Festival. Up against competitors two years older than her, Maud won the Shakespeare Performance category with the first piece by the bard she has ever learnt.
Both girls teamed up for the Musical Duet category, again performing against older competitors. They won with a piece they had harmonised and choreographed themselves, based on 'Sisters' from the musical 'White Christmas'. Both girls are luminaries of the Arial Company theatre school in town.
Well done girls – we'll be watching for your next performances!