The end of a big term for our eggcellent year 11s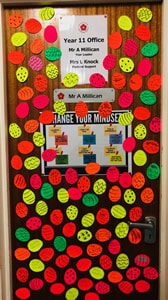 The end of a long term is here for all of our students, and it has been particularly hard for our year 11s. As well as their second set of mocks, it's been revision, revision, revision and they have risen to the challenge magnificently.
All teachers were given brightly coloured card eggs to give out to students who they feel have gone the 'extra mile' in the last week before we break up. Students visited the year office to swap their eggs for some chocolate ones. As you can imagine it has gone down a treat and was a lovely way for the year staff to congratulate students for having done so very well this term.
We know they will be revising hard over Easter, and many will take advantage of the full programme of revision classes laid on by staff over the coming fortnight. Thank-you to everyone for their efforts, and good luck to all!