Sixth formers virtually in parliament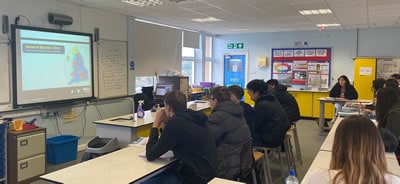 While trips out of school are difficult in the current climate, our A level law students managed to visit the Houses of Parliament without having to leave the classroom. The Parliament Education Team hosted a virtual visit so the students could learn about how laws are made in Parliament.
They even shared how the MPs have been keeping their social distancing in the chambers with images of the Commons and Lords before and after the Covid secure guidelines. Students were encouraged to think about who they would nominate as a life peer and what laws they would debate if they had the opportunity. Our students were interested in the possible removal of the sanitary tax, and found out that it would in fact be removed after we leave the European Union next year.
It was a very useful hour but students did miss out the beautiful architecture of the building. On the other hand they didn't have to grapple with public transport and the tube, and they were able to attend their other lessons that day.
We would like to thank Mrs Fleming for organising the visit.