Billy Vunipola honours our sporting stars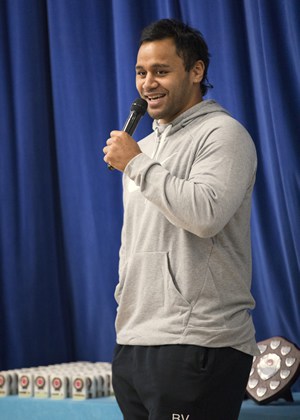 We were delighted to welcome Billy Vunipola to Sackville as guest-of-honour to our Sports Awards Evening. A record number of parents and students were there to greet him, as he arrived in an improbably small VW Polo.
He talked about his career and what inspired him to get into rugby, and answered questions from the students. He revealed that his father had been the strictest coach to both him and his brother, often making the boys run home from a match when they had not played well! Billy also stayed behind at the end to sign a large number of autographs. 
Most importantly for the students who received awards there was a handshake and a good wish. This year there was also a special new award in honour of former student Matt Cox. This award went to George Cave for his contributions to Sackville cricket over his seven years at the school.
We would like to thank all of the students and parents who supported us last night, and the PE staff for organising an evening that will live long in the memories of those who were there. And of course we would like to express our gratitude to Billy Vunipola himself, who so willingly sprinkled his stardust to make the evening so exceptional.