Congratulations to Sackville's first mental health first aiders!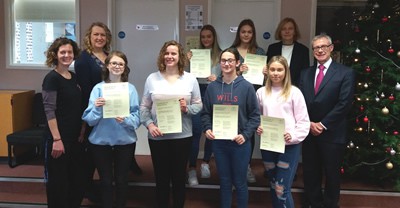 Headteacher Julian Grant was delighted to award our first cohort of student mental health first aiders with their certificates over a celebratory breakfast on Monday December 9th.
Youth Mental Health First Aid (MHFA) courses are for everyone who works with, lives with or supports young people aged 8-18. Our qualified trainer, Mrs Nibloe has taught the students the skills and confidence to spot the signs of mental health issues in a young person, offer first aid and guide them towards the support they need. In doing so, they will be able to speed up a young person's recovery and stop a mental health issue from getting worse.
Head of Sixth Form Mrs Valentine is keen to get our newly trained first aiders to support others within the school as soon as possible.
Pictured here are Mrs Nibloe, Mrs Barden, Emily Ford, Treya Lufu, Neeve Theobald-Smith, Kiera Ellis, Katie Cooper, Megan Straford, Mrs Valentine and Mr Grant.
Thank-you very much to Mrs Nibloe for providing this excellent opportunity.