Serving tea to the true 'stars in our school'
To mark the annual 'Stars in our Schools Day' the school leadership team were delighted to serve afternoon tea to all of our support staff.
They were treated to home-made sausage rolls followed by an authentic cream tea. Headteacher Julian Grant was also able to distribute prizes for the winners of the 'Sackville Big Reveal'.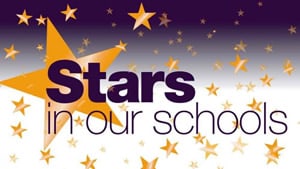 The main purpose however was to mark the fantastic work that this amazing group of people undertake, day-in, day-out. It takes a full team of people to make Sackville a safe place in which students can thrive, and in so many ways our non-teaching staff are our unsung heroes. Without them, nothing that we do would be possible – so thank-you.
Special thanks to Mrs Rowlingson who did the lion's share of the work once again – better not to leave it to the baking skills of the SLT!
Thank you too to the students who provided the musical entertainment throughout the afternoon; Mia Boothe, Matthew Botten, Sam Baker, Thomas Salter, Tom Trounson, Ella Straszynski and Nicole Noakes.