Students do Sackville proud at West Sussex Year 9 Maths County Competition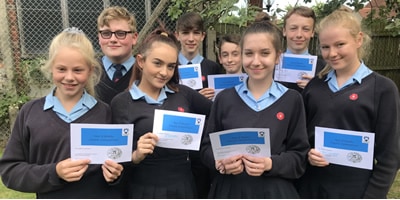 Well done to our intrepid year 9 maths students who accompanied Mrs Smith and Ms Jeffcoat to the County Mathematics Competition at St Andrew's School in Worthing on Tuesday July 2nd. This competition was open to all secondary schools in the county (there are over thirty of them) and the challenges required some very deep thinking, allied to perseverance and teamwork. 
Sackville entered two teams, and both did extremely well, finishing 4th and 12th. Well done to Ellie Murray, Callum Harrison, Emie Edwards, Sam Baker, Noah Englishby-Allen, Emma Stefanescu, Charlie Snashfold and Saskia Crumpton (all of whom had also done their beliefs and values mock the day before).