GCSE success!
Sackville School is delighted with the GCSE results achieved by its students today. They are a reflection of a great year group who approached their studies and all the accompanying pressures outstandingly well.
All of the GCSEs were on the new more demanding 9-1 scale this year and the students rose magnificently to the challenge. With highlights including 8 out of 10 students achieving strong GCSE passes in English and also in maths we can confidently say that at Sackville 'Together we Achieve'.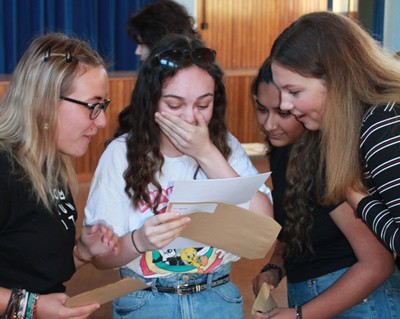 Not only were our own expectations exceeded; the students achieved comfortably above government benchmarks. Hard-working students of all abilities continue to make great strides at Sackville.
Headteacher Julian Grant said "We could tell from the way these students approached their exams in the summer that we were in for some strong results. I would like to congratulate the students once again for the tremendous work they put in over the whole of last year. None of this would have been possible without the support of Sackville's amazing staff and our parent community who I am sure, like me, are very proud today."