Ollie Roberts – 'Top Shot' at army passout parade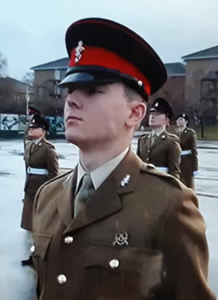 Some more great news about a former student. Ollie Roberts, class of 2017/2019, has worked steadily since leaving school, even with the additional challenges of 2020, to complete his initial army training. 
Ollie is remembered at school not just for his diligence and perseverance, but also for his extensive repertoire of magic tricks. It is no surprise to us that for him completion itself would not be enough: in the process he also gained the 'Top Shot' trophy and his Marksmanship Badge.
Ollie has now graduated to the Royal Electrical and Mechanical Engineers and proceeds to Lyneham to complete his training. Well done Ollie and good luck for the next phase of your career. We hope you still have time to keep all those conjuring tricks up to scratch.