Ollie Tomkinson learns from the Stereophonics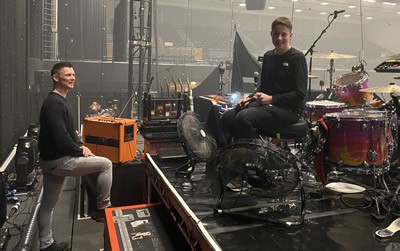 A keen drummer now learning the bass guitar, year 10 student Ollie Tomkinson was invited to attend the Stereophonics concert in Brighton this week by bass guitarist Richard Jones. Richard arranged for him to watch the sound check and then join him on stage to meet the band, and in particular Jamie Morrison the drummer.
Richard (pictured here) showed Ollie around the set and talked through how the sound and lighting equipment was arranged and set up before himself testing out Ollie's bass guitar and signing it for him. Jamie then appeared with a set of sticks and invited Ollie to play his drums on stage.
Ollie then watched the show later that evening before meeting up with Richard again for a tour round the crew area, practice studio and band lounge.
An amazing experience!