Willkommen bei unseren Besuchern aus Mindelheim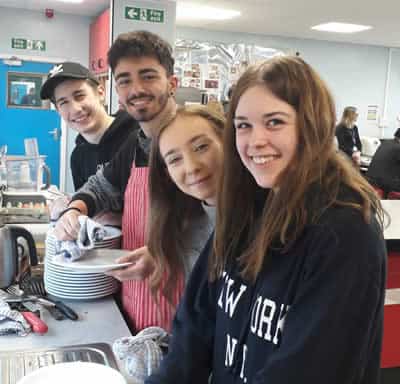 Unless schoolboy German has let us down here … this should mean welcome to our visitors from Mindelheim, our twin town in Bavaria.
It was a genuine pleasure to entertain a large party of college students on Friday 28th February as part of their lightning visit to the UK. They were entertained to a traditional 'full English' breakfast, superbly prepared and served by Mrs Smeaton and her year 13 hospitality students.
The students talked of their excitement to visit East Grinstead and London over the next couple of days, as well as share information about their home town. There was even time for some gentle ribbing of Chelsea-supporting Mr Watson for his team's recent performance against Bayern Munich.
The visitors were not afraid and pitch in to help Ms Burton and Grace Holmes with the washing up, as can be seen from the picture.