Anna Howie launches new EP with help from Sackville musicians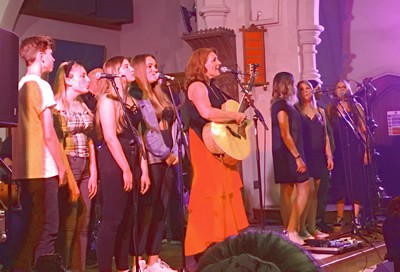 On Friday night 28th June,  Anna Howie launched her new EP 'An Idiot's Guide to Love' with an enchanting performance at St John's Church in Dormansland.
Anna was supported by a wealth of musicians from Sackville School including former staff member and student Simon Forsyth, all of whom added to what was an inspiring evening of country, folk and modern music.
Anna's EP has entered the UK country album charts at number 7 which is an amazing achievement. Her EP can sampled and bought from here http://hyperurl.co/y65jcc
Thanks for inviting us Anna and well done to our musicians: Toulah Morgan, Jamie Bland, Seren Foulds, Peggy Wheeler, Chloe Harman, Tia Bartlett, Jazmine Mustard, Isabelle Goddard, Lewin Parker, Craig Thorne, Tom Trounson, Michael Hoelters and Oliver Howland.