SSAT national awards for Sackville
Sackville has been awarded by the national Schools, Students and Teachers (SSAT) network in two vital areas of school development.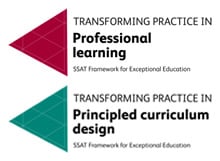 The school has been recognised as being 'transforming' in our work on professional learning (staff training) and in having principled curriculum design. 'Transforming' is the highest category the SSAT can award and it therefore recognises that our practice is amongst the most exceptional nationally.
We went through a rigorous process involving another school peer reviewing our work and the SSAT reviewing our practices through the submission of evidence and staff interviews. 
We are delighted that the hard work of staff here has been recognised in this way. The developments in these areas, led by deputy heads Paul Street and Neil Feist with senior leaders Steve Bush and Dennis Hayden have ensured that we continue to review and improve our practice so that we provide all of our students with the best education possible.
Congratulations to everyone involved!