Year 8s graduate from key stage 3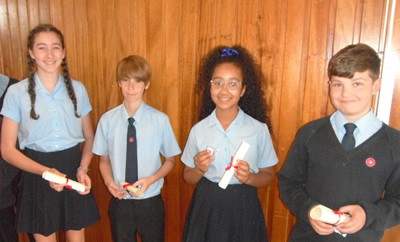 We were delighted to host two celebration assemblies on Monday and Tuesday 8th and 9th July to mark the graduation of year 8s from key stage 3.
Every student received a scroll from Mr Grant. On the scroll was the number of reward points each student obtained in years 7 and 8, their photo, the subjects they will study in years 9-11, and best of all three adjectives that best describe them chosen by their form tutors.
There were also awards for individual excellence in different subject areas.
One parent commented: A joy to be at the year 8 assembly this morning! Thank you for the wonderful opportunities you are giving our son and the care for him.
We would like to thank all of the parents who were able to attend, and of course also the wonderful year 8 students.