Our year 7s had a particularly long day on Friday October 8th as they enjoyed a five hour activity evening at the end of the school day. Students had the chance to take part in a number of activities, including benchball, dodgeball, basketball, orienteering, an inflatable session and Head of Year 7 Mr Endersby's own patent game 'buses'.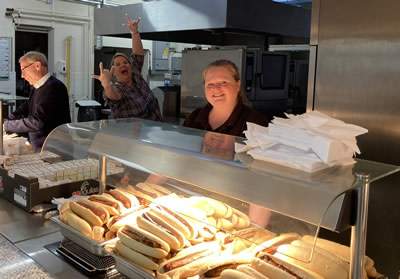 In between the students were treated to an evening snack by our canteen staff and were served by staff including Mr Grant, who looked very at home. We were wondering what he was going to do in his retirement …
The noise could be heard on the other side of town, and the energy expended would have kept East Grinstead lit for a week.
Thanks to Mr Endersby for his tremendous hard work, to the other staff who supported the evening, and of course to the students who entered into the spirit of the evening with such verve.